The Way of the Labyrinth in Lent
 This Sunday, Feb. 24th @ 4 pm
Lent can be seen as a journey, a time of reflection on the year that has passed and the new year that began with Advent, Christmas and Epiphany.  The labyrinth is both a place and a process that encourages us to honor the spiritual aspects of the journey of our ordinary lives.
St. Mary's Parish invites you to use our new labyrinth as a place and time for reflection this Lent.  The labyrinth is open for your respectful use at any time, but the following days and times have been set this year for a structured reflective process.  Feel free to attend any or all of the walks.
Dates:                   Times: 4-5:00 p.m.
February 24
March 3
March 10
March 17
March 24
A.    We will begin inside Trinity Church to set our intention for our labyrinth journey.  We will use writing to assist us in this effort.
B.    We will walk the labyrinth, using a meditative pace and mantra.
C. We will return to the Church to sit in silence and record our experience. 
Saint Mary's Parish
47477 Trinity Church Road
St. Mary's City, Maryland   20686
301-862-4597
Vocation is an often misunderstood term.  Some people still think the only people who have vocations are those in the clergy or who work for overtly religious organizations.  But everyone has a vocation.  The word comes from the Latin "vocare", meaning "to call," and so vocation is something that you are called to. ….But most of the time the call manifests itself as a simple human desire….but vocation is bigger that what you do, that is, your work, your job, or even your career. It's about who you are.  Each of us has a unique vocation to become the person we are meant to be…..God desires for us to be the freest most mature, most loving, most alive person we can be.
From:    Between Heaven and Mirth: Why Joy, Humor, and Laughter Are at the Heart of the Spiritual Life,  by James Martin, SJ
Being the most mature, most loving and most alive person we can be means answering God's call to holy vocation.  The call may be expressed in parenthood, conjugal love, in jobs, careers or volunteerism.  Joy is the certain indicator that we have been able to connect  to God, the source of our greatest desires and the revealer of our holy vocations.  Being responsive to God, means trusting that we are each specially made by our Creator for the greater good of ourselves, our loved ones and the world. Most of us are keenly aware of the differences between desires that are harmful and those that change us and the world for good.  The latter inspires us to be everything that God made us to be and brings us, joy, peace and the knowledge of God.  The single minded pursuit of  self centered pleasure or gain does not result in this gift of joy.  Even so,  with this perceptive and experiential advantage,  we must enter into prayerful discernment to know if we are walking the path of  holy vocation.  God will show the way to this powerful way of life, because God's deepest desire is for us to live joyfully loving God with our whole hearts and our neighbors as ourselves.  Does this path remove struggle?  Does this path always result in the successes we hope for?  Does this path assure us that we will not make mistakes along the way? The answer to all these questions is a gentle, prayerful, "no". There will be wrong turns, experiences of weakness, disappointments in ourselves and others, but, there will always be God's help to amend the problems that arise along the way.  The result will be extraordinary personal growth and expansive, aware and fully awake living.  We will rest on the confidence that God has fully equipped us to do what we must do and will always be our partner in vocation. If we follow this holy path in life, no matter how challenging, we will do it knowing that we will never be more alive than we are when we allow God to fuel us with divine hope and creativity.  God's joy is contagious and if we catch it, we will completely live every day of our life. Amen.
Nan+
A St. Mary's College student from Baltimore wrote a short essay about remembering her Italian grandfather, (Nonno), who had died and the role our campus ministry played in strengthening faith and helping her to find peace.  Following is an excerpt:
Placida è l'onda, prospero è il vento. (The waves are calm, the wind blows prosperous.)
In the months following Nonno's death, I often wandered out to the river at night alone. In the peaceful stillness, I would sit watching the stars and listening to the waves crashing onto the rocks. St. Mary's River wasn't enormous, but for a girl raised in the suburbs, it was as perfect a spot in nature as I could ever hope to find. And isolated from any big towns, St. Mary's College had few lights to detract from the natural starlight. It was a place where there was no time.
My riverside reflections usually occurred near the southern end of campus, which ran into a peninsula near the Historic State House and Trinity Church. The edge of the church graveyard sloped dramatically down to a triangular strip of beach called Church Point. At the tip of the triangle stood a tall wooden cross that faced the bend in the river, where the water seemed to stretch out forever.
I chose this area whenever I missed Nonno, because of the strength and beauty of the stars and the river before me and the safety of the church behind. It reminded me of the seascapes he loved to paint. He had served in the Navy during the war despite not being able to swim, a fact we often teased him about.  While he never saw combat, he always had a love for the sea.  He never tired of its beauty. Although he never saw Church Point, I know he would have loved it.  Sometimes I can picture him there with me, as if he has stepped out of an old sepia-tone photograph, dressed in his Navy whites and holding his St. Christopher medal.
Overlooking the river is Trinity Church. The small, simple white building sits above the slope like a steady beacon. I never realized the depth of the connection between the Church and the river until one night during Lent. While most churches cover the cross above the altar during the weeks leading up to Easter, Trinity replaces their gold cross with a brushed-metal anchor.
Even before my first Lent there, Trinity has become a reassuring presence in my life. The security had to be earned, however. As with most havens, you won't recognize the potential for comfort until you hold your breath and enter.
It was my second weekend in college, a warm September evening. My friend Vanessa had invited me, and although I hadn't set foot in a church in years, something brought me to the church's front door. I stood waiting outside the set of wooden double doors with the antique brass handles, shifting my weight from one foot to the other and wondering why I was there.
Why did I come? I thought to myself. I haven't stepped into a church in what, eight, nine years? Should I stay? What if Vanessa doesn't show up?
              Just as I turned to leave, I saw Vanessa walking towards me, a warm smile on her face.
"I'm glad you came," she said and offered a small hug.
I smiled and told her I was nervous.
"No, don't worry. Everyone's friendly here." She paused a moment, trying to read my expression. "It's okay if you don't want to stay either, don't feel like you have to."
With a deep breath, I followed her into the entryway coatroom and then pushed through the swinging doors into the sanctuary. It was a simple room with one mail aisle and two rows of about twenty pews each. Near the steps to the altar was a circle of chairs with a few people already in their seats.
Although I was baptized Methodist and attended some Catholic school, the Episcopal service did not feel at all foreign. I found myself following the prayers and litany as if I had heard them all of my life. A certain reverence and timelessness engulfed me, and soon I was remembering Nonno. I could sense him despite the fact that he and I never attended a service together. I don't even recall him going to mass once in my lifetime.  Yet it seemed as though everything there was designed to trigger some faint memory: the smell of incense, prayers in a langue above our own speech, the soft, simple melodies of the hymns. As we said a prayer for the dead, I had to wipe away a few tears.
By the time we gathered to take communion, I was visibly shaken. In my mind I could hear scores of nuns, along with my mother and grandmother, warning me that I was not confirmed and therefore could not receive the body and the blood of Christ.
"I want to remind you that everyone, " Father John said as he looked directly at me, "everyone, is welcome here. These are the gifts of God for the people of God and that means you."
It was a communion with Christ, but also a communion with those who had come before – both the steadfast believers and those uncertain of their place and questioning their faith. I returned to Trinity the following weekend and every weekend afterward whenever college was in session. And every year just before Lent, I anxiously wait and watch for the anchor to apper.
Venite all'agile, barchetta mia. (Take me to the other shore, my little boat.)
              Nonno's faith wasn't overtly "religious": it was a quiet peacefulness and sense of hope. It's the same hope that fills you when you look up into the star-filled sky or out over the endless river. He trusted in God, and trusted in the faith that his family had carried to America years ago. He had left the church, but there was still a connection. And there was a connection for me too. In returning to church, I returned to the faith of my ancestors.
Fr. John once told us that we remember people best by sharing their stories with others. We incorporate their spirits into ourselves through the telling and retelling. Nonno's story and Angiolina's (Nonno's mother's) story have become entwined with my own. Their faith and my faith are continuous, like the security within the church and serenity of the river outside. Their memories were no longer isolated frames in time, but a part of a continuous whole, like the notes of a song converging to create the melody.
Again and again I return to the river and hear "Santa Lucia" playing through my mind. I always picture Nonno as I saw him in an old photograph I found a few years ago. The days prior to his funeral, I had the task of sorting through generations of pictures and putting together a memorial collage. I had decided to use the words to "Santa Lucia" to illustrate the life of my grandfather, but I needed pictures that captured his attitude. When I found the photograph, it stole my breath. It was Nonno, only a year or so before I was born. He stood on the beach of Assateague Island in his blue windbreaker and tan flat cap. The sea and sky seemed to collide in a million shades of blue as the clouds gathered above. He stood on the dull sand to the left of the frame – one man, hands in his pockets and a contented half-smile on his broad face, standing there with all the ocean behind him.
The church yard at Trinity Episcopal Church, St. Mary's City, is running out of burial spaces.  In an effort to address the shortage and meet the needs of parishioners and surrounding community, members of the vestry are working with the cemetery committee, the rector, and other friends of the parish to develop a memorial garden that creates additional space for burying loved ones' remains.
Trinity's church yard is situated on raised point of land overlooking the St. Mary's River; it's an exquisitely beautiful spot. "We often get requests from faculty, staff and alumni of St. Mary's College of Maryland, and people from the surrounding community, who wish to be buried here," said the Reverend John Ball, rector. "We would like to be able to accommodate anyone who wishes to have their remains interred in our church yard, but we also need to ensure there will be sufficient spaces for our parishioners who have committed themselves to the church over the years," he added. Fr. Ball explained there is no space to add plots for full-body burials; however, building raised beds surrounded by columbarium niches for cremated remains is an option.
Planners hope to design a lovely garden space for the living to gather and celebrate important life events in addition to creating a fitting place to remember and honor the dead. So far planners have met with two professional landscape designers who have submitted preliminary sketches for consideration. Fr. Ball stressed that the winning design will be just right for the space.  "The memorial garden has to be subtle, sitting lightly and not overpowering the space," he added.  The idea is to choose a corner of the yard that overlooks the water and frame a central gathering space with raised flower beds made with natural, stacked stone.
Folks considering where to be buried will have a few options, some quite affordable, and others more expensive, depending on their choices.  Among the more affordable options would be burying ashes directly in the soil, while a higher priced choice would be to place an urn in a niche marked with the name, birth and death dates of the deceased.
Ned Brinsfield, owner of the Brinsfield Funeral Home in Leonardtown, likes the idea of having a memorial garden at Trinity open to all people.  He has been helpful to Trinity planners by providing information about sizes and shapes of urns, items to consider in regulating the use of the spaces and other important considerations.
Funding the design and construction of the memorial garden will be part of a capital campaign. "We are adding to our parish's infrastructure to provide for the future," Fr. Ball said. He reported the initial cost to range between $125,000 and $150,000. Church leaders hope to fund the project through contributions from parishioners and friends and by advanced sales of columbarium niches. Fund raising will begin as soon as the design and costs are finalized.
For more information, call Fr. Ball at 301-862-4597. Contributions may be sent to:
Trinity Memorial Garden Project
Post Office Box 207
St. Mary's City, Maryland 20686
by Jay Friess, Editor of the LexLeader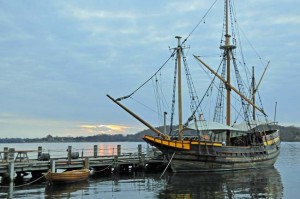 Posted by Trinity Episcopal Church Community Builder
Father John Ball of Trinity Episcopal Church says that St. Mary's City has always had a unique ability to bring people closer to God, given its natural beauty and serene, meditative surroundings. And he sees the area as an ideal setting for a new Ministry of Place.
For 17 years in the 1980s and 1990s, Trinity hosted a program called, "Creation Around the Chesapeake", a week-long theological seminar focused on topics related to various aspects related to  creation. The event was a partnership among the parish, the Washington Diocese, St. Mary's College of Maryland and Historic St. Mary's City Museum. Participants stayed and dined at St. Mary's College. They spent each morning attending lectures with prominent theologians and conducting small group discussions. Participants signed up for afternoon workshops on an array of special interest topics, such as stone carving, sailing, bibliodrama, crabbing, cooking. And, in the evening, they attended entertainments, such as theater, dancing and singing.
Father Ball said the focus of Creation Around the Chesapeake was "experiencing the presence of God in this place," the beautiful environs of St. Mary's City. "People came here, because they could experience God in a way they couldn't around the beltway."
For a time, Trinity also developed a youth program, known as GodSearch, which also sought to use St. Mary's City as a meditative focus. Youth groups came from churches all over the Mid-Atlantic to attend the weekend program.  They began with music and mixer activities, followed by an improvisational drama on a passage from Holy Scripture called a Bibliodrama. The story of the Prodigal Son was a popular choice. As the evening unfolded, young people were given a small candle and asked to find a quiet spot in the church yard overlooking the St. Mary's River.  At midnight, the church bell tolled calling everyone into the church for a celebration of Holy Communion.  Participants spread their sleeping bags on foam pads for the rest of the night.  The next day everyone spent the morning doing a scavenger hunt on the church grounds and followed by a skipjack tour of the St. Mary's River and lower Potomac. All in all, the church's guests experienced God through community, in scripture, in meditation, in the Holy Eucharist and in Creation.
While the Creation and GodSearch programs have fallen into history, Father Ball believes that St. Mary's City has the potential to build on them for another ministry.
"My vision is creating a space where people can come from and experience God's divine presence in ways they may not be able where they live," Father Ball said. "There is a common need for gathering spaces in St. Mary's City. That's something the parish could provide for church, college and museum events."
He envisions using existing and developing new spaces for the study and preservation of the sacred arts – icon and other forms of painting, music seminars and concerts, verger and acolyte training, altar guild, flower arranging, needlepoint, and calligraphy. He wants to eventually join forces with St. Mary's College and Historic St. Mary's City Museum to plan and build a hybrid conference center in St. Mary's City, which can serve as a facility for events sponsored by all three institutions. He noted that the food service portion of the center, always the hardest part of creating this type of facility, is already on the grounds in the form of the college cafeteria. The facilities need to be built are guest housing and large gathering/meeting space.
"The initial goal is utilizing what we have right now to build critical mass," Father Ball said.
To that end, Trinity will soon be hosting two events this June:
- June 25 – 29 – Icon Painting Class with Philip Davydov & Olga Shalamova. Click here for details.
- June 27 – 28 – Music That Makes Community with the All Saints Company. Click here for details.
Most of us find it difficult to get up and out before the crack of dawn; however, it is something I look forward to doing every Easter Sunday.  For the last several years, we have been holding the Great Vigil and first Eucharist of Easter at St. Mary's Chapel, Ridge. We gather in the darkened church in the dark of night and kindle a new fire from which we light the Paschal Candle that represents the light of Christ's presence in the world.  The cantor slowly moves down the aisle with the great candle, proclaiming "The Light of Christ!" as the faithful light their handheld candles from its flame. The church takes on a soft, warm glow as more and more candles are lit. Then the cantor places the great candle in its stand and begins singing The Exsultet — "Rejoice now, heavenly hosts and choirs of angels, and let your trumpets shout Salvation for the victory of our mighty King…"
One by one, lectors come forward and recount the story of Salvation History as revealed in Holy Scripture. Beginning with the accounts of God creating the world and Noah and the Great Flood, as told in the Book of Genesis; then moving through God's call to Moses to  lead the people of Israel out of Egypt through the waters of the Red Sea, as told in the story of the Exodus; to Isaiah's affirmation that salvation is freely offered to all, and ending with Ezekiel's proclamation of God's promise to give his people a new heart and a new spirit; the congregation responds to each part of the story with song and prayer.
As the Great Vigil portion of the service is coming to an end, and the first rays of sunlight pierce the darkness of the church through the stained glass windows, reflected light dances on the walls in an array of blues, greens, pinks, and yellows, Christ's Resurrection is proclaimed and members of the congregation enthusiastically ring bells and shout, "Alleluia! Christ is risen! The Lord is risen, indeed! Alleluia!"
If you have not hauled yourself out of bed so early in the morning, (or more like the middle of the night), to attend the Great Vigil and First Eucharist of Easter, I urge you to do so next year. Don't forget to bring your bell to ring at the proclamation of Christ's most glorious resurrection. The bigger and louder the bell, the better!
'This is the night, when Christ broke the bonds of death and hell, and rose victorious from the grave. How wonderful and beyond our knowing, O God, is your mercy and loving-kindness to us, that to redeem a slave, you gave a Son.
How holy is this night, when wickedness is put to flight, and sin is washed away. It restores innocence to the fallen, and joy to those who mourn. It casts out pride and hatred, and brings peace and concord.
How blessed is this night, when earth and heaven are joined and man is reconciled to God." ~ The Exsultet